Tuesday, November 20, 2007
TIME TO MULTIPLY
i'm moving to where it's more convenient.
http://shoogahigh.multiply.com/
do visit if i'm your cup of tea. :)
:: rouge @ 9:08 am ::
::
Sunday, November 11, 2007
THE GREAT RAYA SEASON
i'm done with all the raya visiting! mana-mana rumah yang tak terpegi tu, kira burnlah ye! there's always next year. :p
seriously, the exam season had put a real dampener on my celebrations this year. i was only done with all the marking, yada yada yada, well after the third week of raya. many relatives' houses went untouched (my own family came over to my place on the last raya weekend! says a lot about my free time hmph.) neymind, next year, when i'm NO longer in the service (yeah baby, tendering end of the month! merdeka!!) i plan to raya every single day of syawal. cover every single house. make ketupat from scratch. bake 20 types of kuih. fuyooooh semangat 2008!
i'm sure if you guys had seen
fina's
,
hana's
or
esah's
multiplies, you'd have found evidence of our jalan raya hebat - 10 houses in 2days1night! it was exhausting but deemed completely necessary. bila lagi nak catch up on lost time ooiii... :D tahun depan buat lagi ye.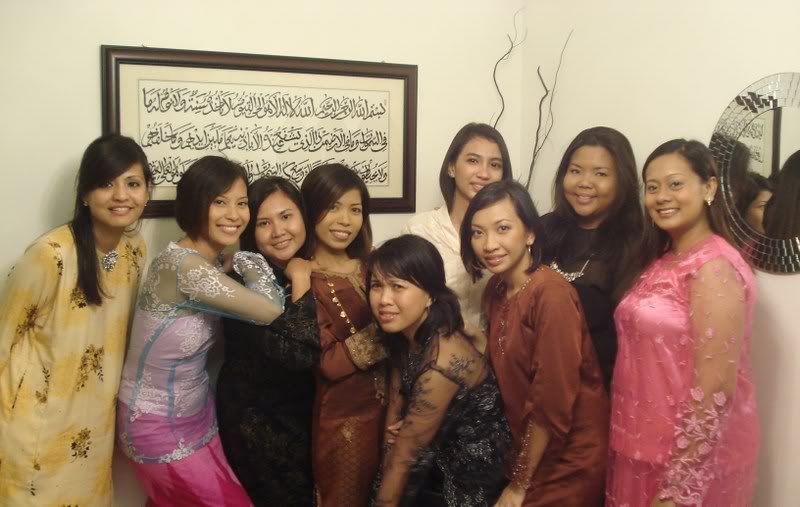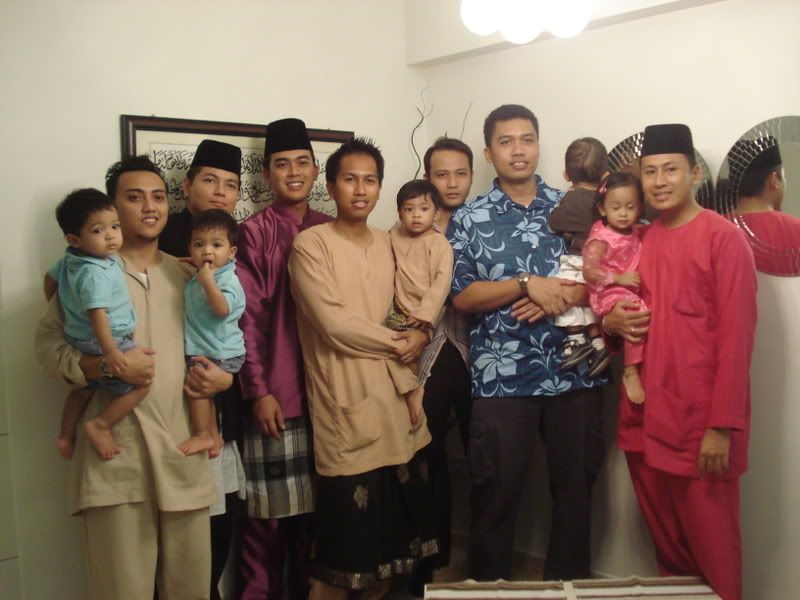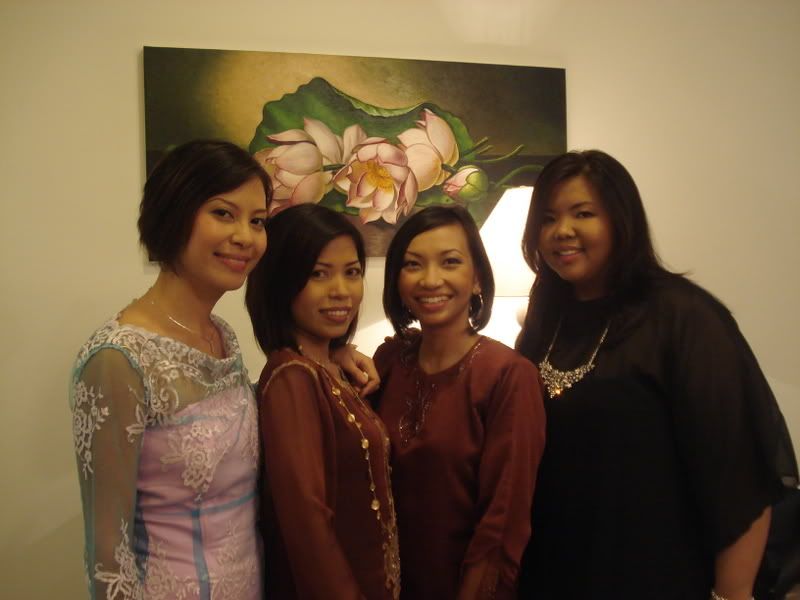 managed to squeeze some time for my
tkgals
too.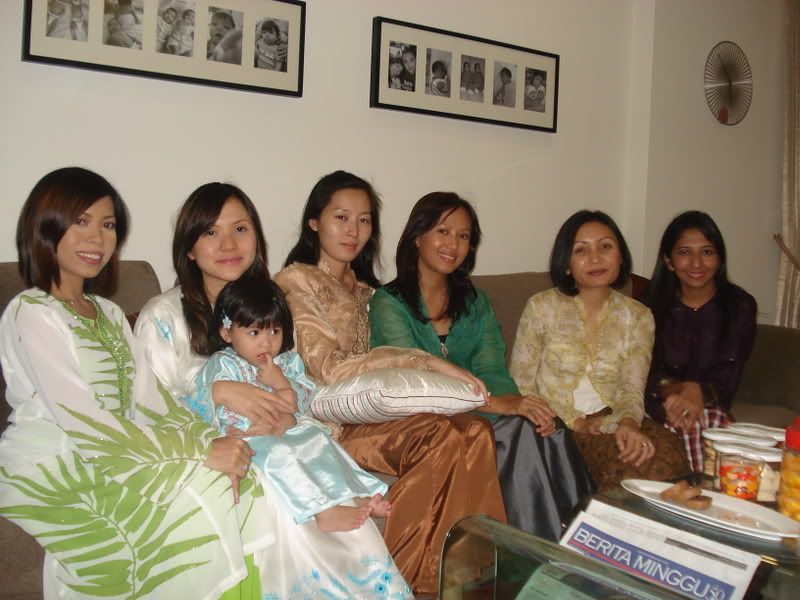 and see this!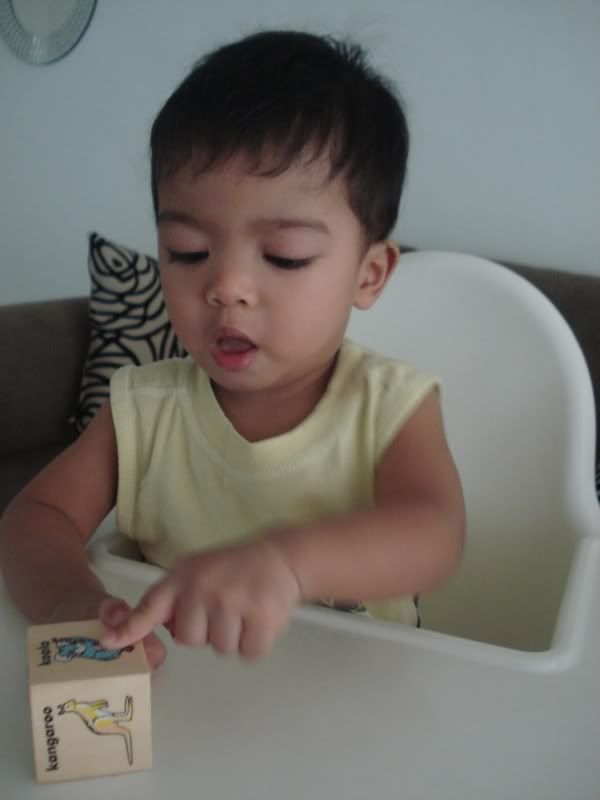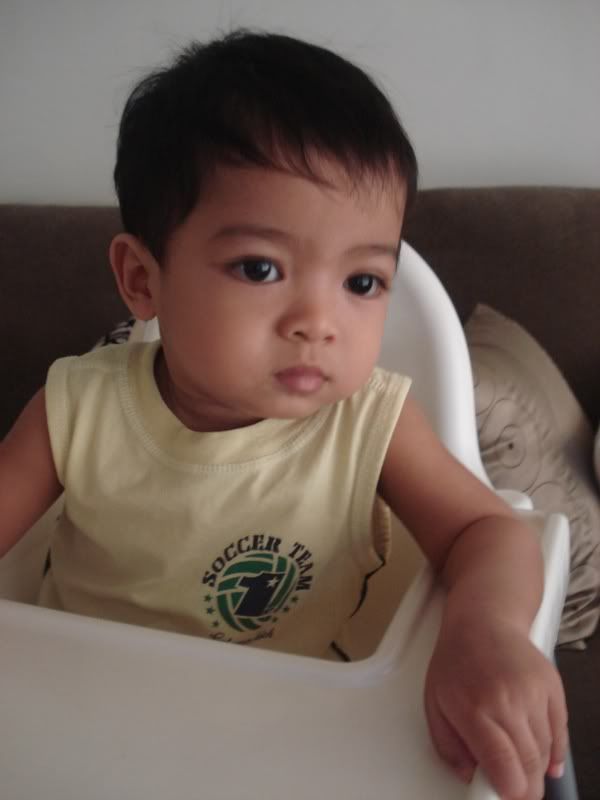 no more curls! i still can't get over their traumatic haircut (for everyone involved, including the hairdresser who cut her finger due to a struggling adam :S), nor the loss of their trademark locks. so sayang kan? the good thing about it is there's no more mistaking them for dainty little girls. now they are
lanang
through and through. next hair cut? in a year's time. this mummy wants those curls to come back!
:: rouge @ 9:14 pm ::
::
Friday, October 19, 2007
SELOKA RAYA
makan kuih pelan-pelan
kalau tercekik, ish buruk padahnya
selamat hari raya kami ucapkan
dari damdils serta keluarga
kawan baru, geng-geng lama
apa khabar mu nun di sana?
tak lama lagi kita bersua
jalan berconvoy, mesti fun punya!
salam lebaran dari kami sekeluarga, mohon maaf zahir dan batin. :)
:: rouge @ 6:59 pm ::
::
Wednesday, October 10, 2007
CUKURRAMBUT
today is THE day. the boys are going for their haircut!! first virgin trip to a proper kiddy barber - i'm hoping and praying the tools of distraction (ie the video screens and toys) will live up to their roles. i don't want the boys to throw an unwarranted fit in public or worse still, end up with a lopsided mangkok hairstyle that will only sit well with the orang ibans.
this mummy's sure going to miss those curls (*sniff*) but they MUST look like boys during raya visiting, otherwise my mouth is going to jam up with all the
dorang-lanang-lah-bukan-wedok
retorts for curious&confused relatives.
will update again with pics. wish us luck!
***
BEFORE PICT: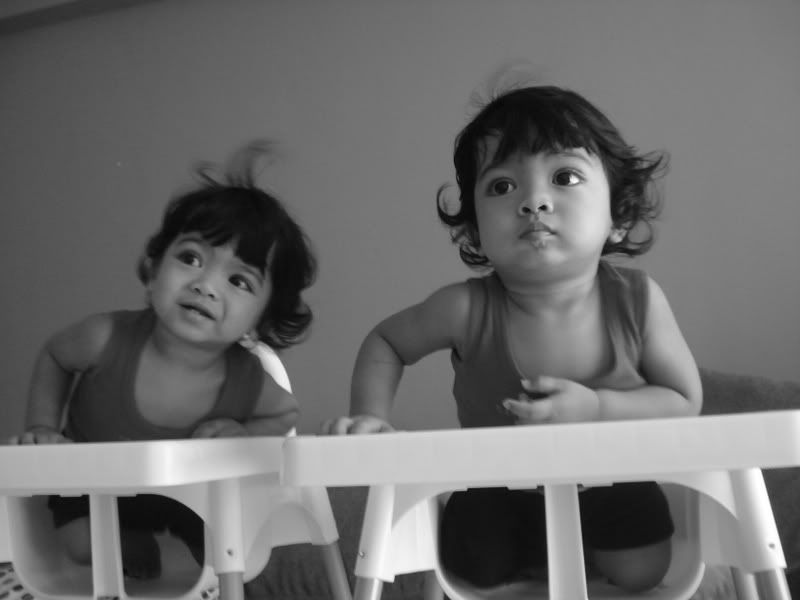 AFTER PICT:
no heb!!!
why? because they didn't cut their hair lah, kensel!
don't get me wrong. it's not another case of procrastination. we DID go down to a kiddy barber, and we DID queue. but *because* we queued, we had the chance to scrutinise the hairdresser's workmanship on the other kids. all i can say is, WAH PIANG, really cannot make it sia!! all of them ended up with some cinabukit hairstyle ~ tak stylo langsong! even the husband winced. to think that the poor kids looked better before the haircut.
before the boys fell victim to her highly specialised trim, we promptly packed them into their strollers and bid the nyonya goodbye, "we'll come another timelah, queue's too long..." to which she acknowledged our adieu with a smirk. it was either that white lie, or risk butchering her confidence by telling her she needs more training at redken.
it was already too late by then to be looking around for another barber, so i started to feel resigned about my boys spending their raya with girlish locks.
gasaklah, susah sangat toncet aje.
until we stepped into pumpkin/patch to get some raya togs for them.
while the husband and i were browsing through some plaid shirts at the boys' section, we were approached by a very concerned looking sales staff. "madam, this is the boys's section. the girls' section is at the other side." i nodded and blinked at her and said, "we know" and continued to pick out some nice red shirts for the boys. the sales staff stood her ground and broached the subject again, "madam, if you want girl clothes, they are over there." i could detect a hint of exasperation in her voice.
sigh. typical scenario.
when we told the nice salesperson that our twins are in fact bona fide males with nice hair, the look she gave us was priceless. macam tertelan katak. LOL!
that was when i decided, by hook or by crook, tu dua budak punya rambut mesti kena tebas jugak. by tomorrow. which is insanely impossible given my workload at the office.
maybe i should just cut their hair myself. rambut mangkok pon, rambut mangkoklahhhh...
:: rouge @ 4:03 pm ::
::
Friday, October 05, 2007
EMANCIPATION
i'm feeling extremely, positively HAPPEEEEEE.
had a talk with the husband in the morning and we figured out a way that allows me to be a stay-at-home mum in 2008. well, at least for a couple of months. *beams*
sacrifices are definitely in order but it's totally workable, baby! and i no longer have to be in a mad rush to snag myself that elusive deskjob by jan next year.
all that and maybe we'll have more in our savings account too. alhamdulillah.
is it time to launch my foodcubesforlilbubs?
i think now i can.
:D
so working mums out there, wait for more news from me ok!
:: rouge @ 8:50 am ::
::